FAQ
Do you have a frame for my college or university?
Please see the list below to determine if your college or university is available in our database.
How quickly will my diploma frame be manufactured and shipped?
Each diploma frame order is custom made within one or two business days of order submission and then shipped via the UPS shipping method that the customer chooses.
How will my order be shipped and when will it arrive?
All orders ship via UPS and are insured. During check-out, the customer may choose any of the following UPS shipping methods: Ground, Three-Day Select, Second Day Air, Second Day Air A.M., Next Day Air Saver, Next Day Air, or Next Day Air Early A.M. As each diploma frame is custom made, one or two business days is required to produce each order prior to shipping.
Are your products officially licensed by my college or university?
Yes, for each college or university that operates a licensing program, the products that we sell are officially licensed through Collegiate Licensing Company and Licensing Resource Group. A portion of our sales revenue goes to each participating college or university.
What is your return policy?
We offer a 30 day return policy and 100% satisfaction guarantee.
How do I follow up with questions?
Please contact us at sales@diplomaartworks.com
What diploma frame types do you offer?
We offer a variety of college and university diploma frames with campus landmark art prints. Each frame includes two layers of matboard that create depth while proudly displaying school colors. The following are our most popular frame styles. Upgrades are available for many schools, including rich suede matboard, UV resistant Plexiglas, school logo matboard cut-out, school seal gold embossing, or graduation tassle box. Please contact us with your special requests.
Single Diploma with Artwork – 18″ x 24″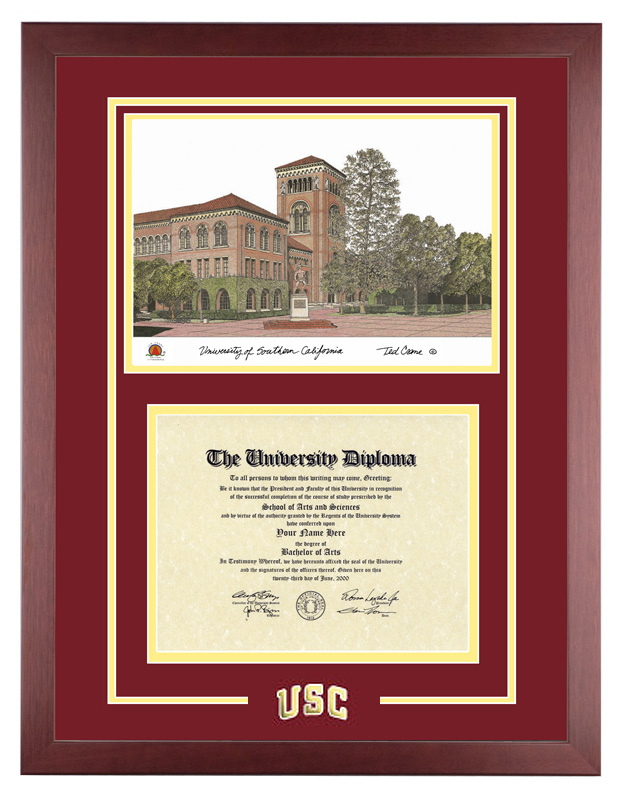 Double Diploma with Artwork – 18″ x 32″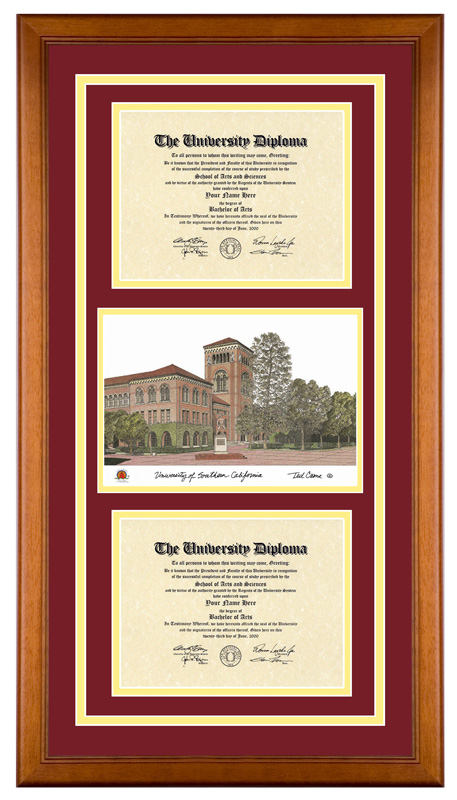 Large Double Diploma with Artwork – 29″ x 29″
Artwork Only – 18″ x 14″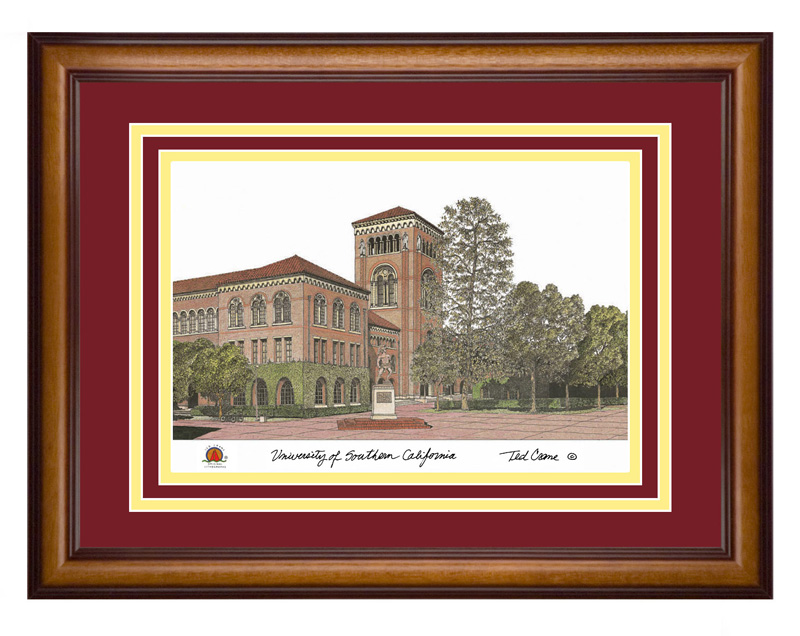 Diploma Only – 14″ x 16″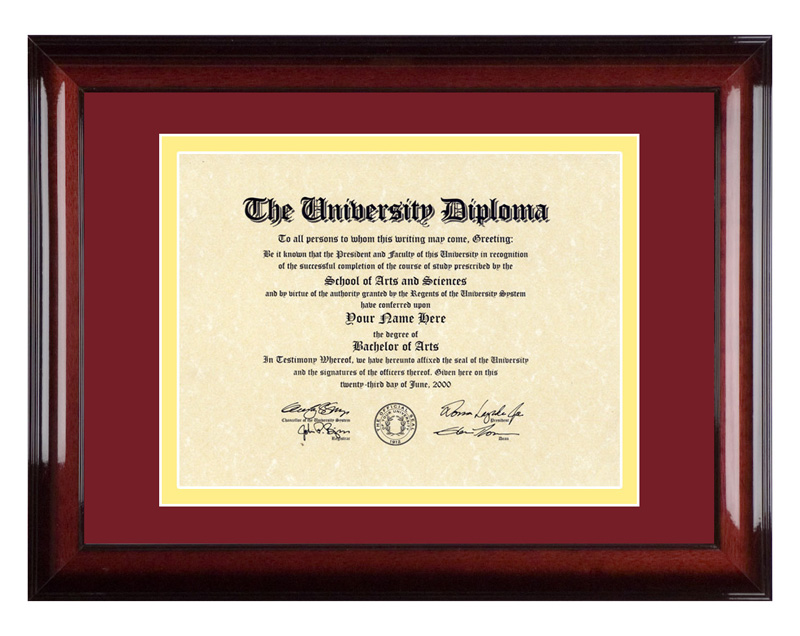 What schools do you sell diploma frames and artwork from?
We currently offer diploma frames with artwork from the following colleges and universities. Please contact us if you would like to purchase a diploma frame from a school that is not listed below, as we are continuously expanding our offering of famous campus landmark drawings.
Alabama
The University of Alabama – UA Bama
The University of Alabama at Birmingham – UAB
Auburn University – AU Tigers
University of South Alabama – USA
Troy State University – Trojans
Arizona
The University of Arizona – UA Wildcats
Arizona State University – ASU Sun Devils
Northern Arizona University – NAU Lumberjacks
University of Phoenix – UPX
Arkansas
University of Arkansas – UA Razorbacks
California
Azusa Pacific University – APU Cougars
California State University Bakersfield – CSUB Roadrunners Cal State Bakersfield
University of California, Berkeley – UC Berkeley CAL Bears
Biola University – BU Eagles
California Baptist University – CBU Baptist Lancers
California Lutheran University – CLU Kingsmen Regals
Chapman University – Chapman Panthers
Chapman University School of Law – Chapman Law
California State University, Chico – Chico State CSU Cal State Chico Wildcats
The Claremont Colleges – Harvey Mudd, Keck Institute, Pomona College, Pitzer College, Scripps College, Claremont McKenna College
Concordia University – CUI Irvine
University of California, Davis – UC Davis Aggies
California State University, Dominguez Hills – Cal State Dominguez Hills CSU Toros
California State University, Fresno – State CSU Fresno Bulldogs Cal State
California State University, Fullerton – CSUF Cal State Fullerton Titans CSU Fullerton
Golden Gate University – GGU
California State University, East Bay – CSUEB Cal State Hayward The Bay Pioneers
Humboldt State University – HSU Jacks
University of California, Irvine – UC Irvine UCI
University of La Verne – ULV Leopards
Loyola Marymount University – LMU Lions
Loma Linda University – LLU
California State University, Long Beach – CSULB Cal State Long Beach 49ERS
California State University, Los Angeles – CSULA Cal State LA Golden Eagles
Menlo College
National University California – NU
Naval Postgraduate School – NPS Matadors
California State University, Northridge – Cal State Northridge CSUN
Occidental College – Oxy
University of the Pacific
Pepperdine University – Waves
Point Loma Nazarene University – Sea Lions
California Polytechnic State University, Pomona – Cal Poly Pomona Broncos
University of Redlands – Bulldogs
University of California, Riverside – UC Riverside UCR
California State University, Sacramento – Sacramento State Sac State CSU
California State University, San Bernardino – CSUSB Coyotes
California State University, San Diego – San Diego State CSU SDSU Aztecs
University of California, San Diego – UC San Diego UCSD Tritons
University of San Diego – USD Toreros
California State University, San Francisco – San Francisco State SF State CSU
University of San Francisco – USF Dons
San Jose State University – SJSU Spartans CSU
California State University, San Marcos – Cal State San Marcos CSUSM Tukwut
University of California, Santa Barbara – UC Santa Barbara UCSB Gauchos
Santa Clara University – SCU Broncos
University of California, Santa Cruz – UC Santa Cruz UCSC Banana Slugs
California Polytechnic State University, San Luis Obispo – Cal Poly SLO Mustangs
Sonoma State University – SSU Seawolves
Southwestern University School of Law – Southwestern Law
Saint Mary's College of California – (Moraga, CA) St. Mary's College Geals
Stanford University – Cardinal SU
University of California, Los Angeles – UCLA Bruins
University of Southern California – USC Trojans
Vanguard University of Southern California – Lions
Westmont College – Warriors
Western State University Law School – WSU
Whittier College – Poets
Whittier Law School
Colorado
United States Air Force Academy – USAFA
University of Colorado at Boulder – CU Boulder UCB
Colorado State University – CSU
University of Northern Colorado – UNC
Connecticut
University of Connecticut – UConn Huskies
Delaware
University of Delaware – UD UDel
District of Columbia
American University – AU
The Catholic University of America – CUA
Georgetown University – GU Hoyas
Florida
University of Central Florida – UCF
Embry-Riddle Aeronautical University – Embry Riddle ERAU
Florida Agricultural and Mechanical University – Florida A&M FAMU
Florida Atlantic University – FAU
Florida International University – FIU
University of Florida – Gators UF
Florida State University – FSU Seminoles
University of Miami – UM The U Hurricanes
University of North Florida – UNF
University of South Florida – USF Bulls
Georgia
Agnes Scott College
Atlanta College of Art – ACA
Berry University – BU
Brenau University
Clark Atlanta University – CAU
Emmanuel College – EC
Emory University – EU Eagles
Georgia College and State University – GCSU
University of Georgia – UGA Bulldogs
Georgia Southern University – GSU Eagles
Georgia State University – GSU Panthers
Georgia University of Technology – GT Georgia Tech GA Tech
Gwinnett Technical College
Kennesaw State University – KSU
Life University – LU
Morehouse College – MC
Mercer University
Morris Brown College – MBC
North Georgia College and State University – NGCSU
Oglethorpe University
Reinhardt College
Shorter College
Spelman College
University of West Georgia – UWG
Hawaii
University of Hawaii – University of Hawai'i UH Rainbow Warriors
Illinois
Aurora University
Bradley University
University of Chicago – UChicago U of C
Chicago State University – CSU
Columbia College Chicago
DePaul University – De Paul Chicago
Eastern Illinois University – EIU
Elmhurst College
University of Illinois at Urbana-Champaign – U of I Fighting Illini
University of Illinois at Chicago – UIC
Illinois State University – ISU
Illinois Wesleyan University
Loyola University Chicago
National Lewis University
North Central University – NCU
Northeastern Illinois University – NEIU
Northern Illinois University – NIU
Northwestern University – NU Wildcats
Saint Xavier University – St. Xavier SXU
Southern Illinois University – SIU
Western Illinois University – WIU
Wheaton College
Indiana
Ball State University – BSU
University of Hanover
Indiana University – IU Bloomington Hoosiers
Indiana State University – ISU
University of Notre Dame – Fighting Irish
Purdue University – Boilermakers
Rose Hulman Institute of Technology – RHIT
Valparaiso University
Iowa
University of Iowa – U of I UI Hawkeyes
Iowa State University – ISU Cyclones
Kansas
University of Kansas – KU Jayhawks
Kansas State University – KSU K State K-State Wildcats
Kentucky
Bellarmine University
Centre College
Eastern Kentucky University – EKU
Georgetown College – GC GCK
University of Kentucky – UK Wildcats
Kentucky State University – KSU KYSU Thoroughbreds
University of Louisville School of Law – Brandeis School of Law
Morehead State University- MSU
Murray State University
Northern Kentucky University – NKU
Southern Baptist University – SBU
Spalding University
Transylvania University
Western Kentucky University – WKU
Louisiana
Dillard University
University of Louisiana at Lafayette – UL Lafayette
Louisiana State University – LSU Fighting Tigers
Louisiana Tech University – LA Tech
Loyola University New Orleans
McNeese State University
University of New Orleans
Nicholls State University
The Tulane University of Louisiana – TU Green Wave
Xavier University of Louisiana – XULA
Maine
University of Maine – UMaine Black Bears
Maryland
University of Maryland College Park – UMD UMCP Terrapins Terps
University of Maryland University College – UMUC
Towson University – TU
United States Naval Academy – Annapolis Navy The Academy
Massachusetts
Boston College – BC Eagles
Boston University – BU Terriers
Harvard University
The University of Massachusetts – UMass Amherst
Massachusetts Institute of Technology – MIT
Northeastern University – NU
Central Michigan University – CMU
Michigan
University of Detroit Mercy – UDM
Eastern Michigan University – EMU
Ferris State University – FSU
Grand Valley State University – GVSU
University of Michigan, Ann Arbor – U of M U-M UMich Wolverines
Michigan State University – MSU Spartans
Oakland University
Saginaw Valley State University – SVSU
Wayne State University
Western Michigan University – WMU
Minnesota
University of Minnesota, Twin Cities – U of M Golden Gophers
Minnesota State University
St. Cloud State University – Huskies
Mississippi
University of Mississippi – Ole Miss Rebels
Mississippi State University – MSU Bulldogs
University of Southern Mississippi – Southern Miss Golden Eagles
Missouri
University of Central Missouri – UCM
University of Missouri – MU Mizzou Tigers
Saint Louis University – SLU
Missouri State University – MSU MO State Bears
Washington University in Saint Louis – Wash U WUSTL
Nebraska
University of Nebraska Lincoln – UNL NU Cornhuskers
Nebraska Wesleyan University – NWU
Nevada
University of Nevada, Las Vegas – UNLV Rebels
University of Nevada, Reno – UNR
New Hampshire
Dartmouth College – Big Green
University of New Hampshire – UNH Wildcats
New Jersey
Princeton University – Tigers
Rutgers University – Scarlet Knights
Seton Hall University – Pirates
New Mexico
University of New Mexico – UNM Lobo
New York
Cornell University – Big Red
St. John's University – STJ SJU Red Storm New York
Syracuse University – SU The Cuse
United States Military Academy at West Point – USMA Army Black Knights
North Carolina
Appalachian State University – ASU
Duke University – Blue Devils
East Carolina University – ECU
University of North Carolina at Chapel Hill – UNC Tar Heels
University of North Carolina at Charlotte – UNC Charlotte UNCC
North Carolina State University – NC State NCSU Wolfpack
Wake Forest University – Demon Deacons
Western Carolina University – WCU
Ohio
The University of Akron – UA
Bowling Green State University – BGSU
The University of Cincinnati – UC
University of Dayton – UD
Kent State University – KSU
Miami University Ohio – Red Hawks
The College of Mount St. Joseph – The Mount
The Ohio State University – OSU Buckeyes
Ohio University – OU Bobcats
The University of Toledo
Union Institute & University
Xavier University of Ohio
Oklahoma
The University of Central Oklahoma – UCO
The University of Oklahoma – OU Sooners
Oklahoma State University – OSU Cowboys Cowgirls
Oregon
University of Oregon – UO Ducks
Oregon State University – OSU Beavers
Pennsylvania
Indiana University of Pennsylvania – IUP
The Pennsylvania State University – Penn State PSU Nittany Lions
The University of Pittsburgh – PITT Panthers
Temple University – TU Owls
Villanova University – Wildcats
Rhode Island
The University of Rhode Island – URI Rams
South Carolina
The College of Charleston
Clemson University – Tigers
The University of South Carolina – USC Gamecocks
The Citadel, The Military College of South Carolina – Bulldogs
Tennessee
Lee University
The University of Memphis
Middle Tennessee State University
The University of Tennessee – UT Knoxville UTK Volunteers
The University of Tennessee at Chattanooga – UTC Mocs
Tennessee Technological University – Tennessee Tech TTU Golden Eagles
Vanderbilt University – Commodores
Texas
Abilene Christian University – ACU
Angelo State University – ASU
Stephen F. Austin State University – SFASU
Baylor University – Bears
Hardin-Simmons University
University of Houston – UH U of H Cougars
Howard Payne University
University of the Incarnate Word – UIW
Lamar University
McMurry University
Midwestern State University – MSU
University of North Texas – UNT
Our Lady of the Lake University – OLLU
Sam Houston State University – SHSU
Southern Methodist University – SMU Mustangs The Hilltop
Texas State University, San Marcos – Southwest Texas State University Bobcats
St. Edward's University
St. Mary's University
Sul Ross State University
Texas Christian University – TCU Horned Frogs
Tarleton State University
The University of Texas at Arlington – UTA
The University of Texas at Austin – UT Austin Texas Longhorns
The University of Texas at El Paso – UTEP
The University of Texas at San Antonio – UTSA
Texas A&M University – TAMU Aggies
Texas A&M University-Kingsville – Texas A&I University Javelinas Hoggies
University of Texas McCombs School of Business
University of Texas Health Science Center at San Antonio – UTHSCSA
Texas Lutheran University – TLU
University of Texas Medical Branch – UTMB "Old Red"
Texas Tech University – TTU Red Raiders
Trinity University – Tigers
Utah
Brigham Young University – BYU Cougars
The University of Utah – Utes U of U
Utah State University – USU
Vermont
The University of Vermont – UVM Catamounts
Virginia
George Mason University
Hampton University
James Madison University
Liberty University – Flames
Lynchburg College – Fighting Hornets
Mary Baldwin College
The University of Mary Washington
Norfolk State University – NSU
Old Dominion University – ODU The Monarchs
Randolph-Macon College
Sweet Briar College – SBC
The University of Virginia – UVA U.Va. Cavaliers
Virginia Commonwealth University – VCU Rams
Virginia Polytechnic Institute and State University – Virginia Tech VA Tech Hokies
Virginia Military Institute – VMI
The College of William & Mary W&M Tribe
Washington
University of Washington – UW U-Dub Huskies
Washington State University – WSU Wazzu Cougars
Western Washington University – WWU
West Virginia
Marshall University – The Thundering Herd
Wisconsin
Marquette University – Golden Eagles
University of Wisconsin–Madison – UW-Madison Wisconsin Badgers
University of Wisconsin–Milwaukee – UW-Milwaukee UWM
University of Wisconsin-Stevens Point – UW-Stevens Point UWSP